KOTOBUKI CO., LTD.
Kotobuki & Co., Ltd. was founded 1967 in Kawagoe, Japan.

Since its founding Kotobuki is a technologically advanced and highly qualified OEM/ODM supplier, and provides its customers in the writing instruments industry with professional support. Kotobuki offers high quality and adaption possibilities in order to design the products asked for by the customers.
THE THREE STRENGTHS OF KOTOBUKI
1. DEVELOPMENT CAPABILITIES
Through its wealth of experience and flexible thinking, Kotobuki has introduced many innovative products that have not heretofore conceptually existed.
2. PROPOSAL POWERS
Kotobuki is able ti adjust its R&D to the level that each customer desires, and it will provide ideal suggestions.
3. QUALITY PRODUCTIVITY
Kotobuki's production surpasses 100 million annual volume, even while each product with its complex construction is carefully assembled by hand.
OEM UND ODM
OEM – Kotobuki offers fully integrated services encompassing planning, designing, sample creation, R&D, and Maufacturing.
ODM – Kotobuki offers to manufacture the product in accordance with customer provided designs.

KOTOBUKI EUROPE GmbH
KOTOBUKI Europe GmbH was founded in march 2018 in Fuerth, Germany as a 100% subsidiary of KOTOBUKI & CO., LTD and follows Kotobuki's philosophy and culture.
KOTOBUKI Europe's goal is to provide our customers in Euope, the Middle East and Africa with quality products "Made in Japan" and to convey the users the fun and joy of drawing and writing.
Customer satisfaction has the highest priority at KOTOBUKI Europe. As environmentally conscious company we value environment friendly product packages.
KOTOBUKI Europe has qualified for  ISO9001 as well as ISO14001.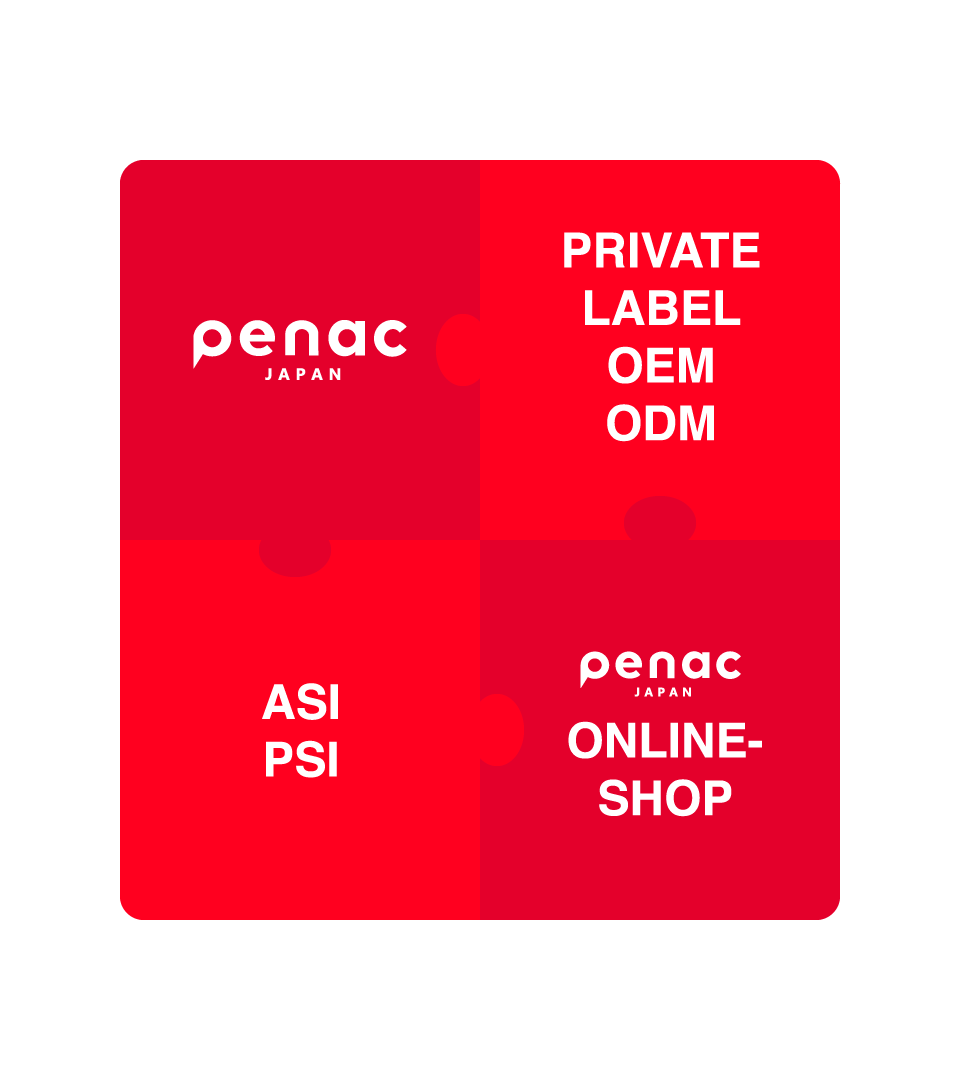 The brand "PENAC" was founded by Kageyama brothers in 1994 in Japan as the worldwide brand of the Kotobuki Group and stands for highly functional and high quality products.
The brand name PENAC was created through the merging of the words "PEN" & "ACE", while envisioning a growing brand that shall position itself as a leading brand. The first capital "P" encompasses the inspirations and "Passion" of the founders.
PENAC products are the flag ship of KOTOBUKI Europe and distributed to our customers and users in all European countries, Russia, the Middle East and Africa.
ONLINESHOP
KOTOBUKI Europe launched two plattforms for the ONLINE business for PENAC products in September 2020. The one is "https://penac-brand.shop/" available for Germany, Austria and Switzerland.
The other is "AMAZON Seller" available for France, Germany, the Netherlands, Spain and UK.
PRIVATE BRAND, OEM AND ODM
Part of our service is the production of private brands for our customers. Furthermore wie offer OEM and ODM services. Doing that we either take over the entire process of the writing instrument production from planning to production or we implement your own designs.
ASI AND PSI
We also offer the individual printing on pens from our assortment to our customers.